Here is why you should come see the Yarra Valley on a private tour
The Yarra valley is one of Australia's if not the world's most loved wine regions. The majestic mountains that glide down to the valley floor, which is divided by the ever flowing 242km Yarra river. Additionally the region is known for its scenery as much as its wine and so much more. The Yarra Valley has amazing wine, gin, cider, beer artisan cheese, chocolate and many more wonders to experience and taste. The ultimate way to embrace the Yarra Valley experience is to organise a wine tour with us. Geoff Cooper founded this private wine tour company in the year 2001 after his run as a carpenter in his hay day, then a high school teacher in the 1980s to 1990s. Let's dive into some history and why our winery tours are the best way to see the Yarra Valley.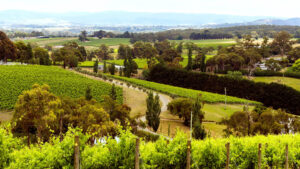 Where we started and the name came from
Every company or brand has a name that identifies it, whether it be clear in why its named that way or sometimes it makes no sense. Evergreen is derived from the Evergreen high school located to the west of Denver, Colorado, USA. This seems a bit far away from the Yarra Valley and has no wine reference at all. Rather Geoff did a 1992 trip to Colorado in a teacher exchange program. Though he has never made it clear to us the exact reason for using the name Evergreen, legend has it during his year long stay in the winter of 1992 in the township of Evergreen, CO.
He mustered a lot of wine research/drinking whilst living in the United States of America, thus forming an appreciation and new found skill in wine drinking. We assume by late 2000 Geoff felt like giving a nod to the high school he has so many fond memories of. Thus Evergreen winery tours was born in Healesville, Australia in January 2001.
The historic and beautiful Yarra Valley
The Valley boasts a history dating all the way back to 1838 when two Scottish brothers founded the property of chateau Yering. This property still stands today as an historic homestead that you can stay and dine in. The region has seen boom periods such as the 1890s, the 1980s and 2000s onward. Traditionally the Yarra produced wines such as chardonnay to petit verdot all the way up to cabernet back in the day. Today many of the wine varieties are more broad with styles of wines such as Shiraz, Pinot Noir, Rose and Rieslings.
The region is known as a cool climate location which all the above wines thrive in. As it's cooler than wine regions like the Barossa or Hunter Valley, the wine varieties in the Yarra are subtle in taste with no overbearing tannin's. Many newcomer red wine drinkers enjoy the floral and light body of our red wine styles in comparison to the Adelaide heavy reds that are stocked in many bottle shops around our nation.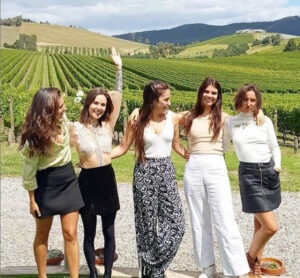 Why you should visit the Yarra Valley and stay for a night or two.
The Yarra Valley is a popular day trip for many who want to escape the Melbourne hustle and bustle. In fact the great town of Healesville was built on this concept that encapsulates the escape the city mentality. Healesville ever since the 1860s has been an end of the Melbourne metro line destination for some lovely fern change. Popular with couples and families to this day for its laid back forest feel and cottage accommodations to stay in. Today the township of Healesville hosts the highly regarded Four Pillars gin distillery, Payton and Jones wines and busy main street. Furthermore main stretch has many boutique cafes, book shops, food and drinks options.
A stroll of the main street Maroondah highway from start to end is 15 mins one way. We recommend if you're looking at booking accommodation in the Yarra Valley and want to be near some excellent day/night food and drink venues then book your stay in the Healesville area.
More towns in the Yarra Valley
The other township in the Yarra Valley which is the next best option is the smaller town of Yarra Glen. Yarra Glen is not as much of a fern or hillside town feel as Healesville but rather a country town layout. Yarra Glen is situated in a lower altitude area of the Valley making it feel more country. They are located right next to the Yarra River which adds charm. They have a great historic pub called the Yarra Valley grand hotel in the middle of main street Melba highway. Furthermore accommodation options the town is more limited and spread out to stay and see. You can walk the main street from start to finish in approximately 4 minutes.
Why you should book a Yarra Valley winery tour
A great starting point is why not let us drive you around so you can drink. Firstly this is an obvious point but we are amazed how many people either risk maybe being slightly over or  drive the drinkers around and miss out. We love to show people the Valley from all locals' perspectives. Many times over we have met people who self drive but only visit the main highway commercial venues.
We love these big guys but our customers and us really really love the small boutique wineries. Without knowing the spots or back roads to head down it's very easy to miss these gems of cellar doors. Often the bigger commercial venues have big money to back but not the genuine experience you might like. Boutique wineries staff are either the owners or well sort after staff that know how to entertain a group. Boutique wineries hand pick wines from well looked after small cropped wines. Bigger commercial wineries machine harvest and bulk grow wines often reducing the wines qualities.
More reasons to wine tour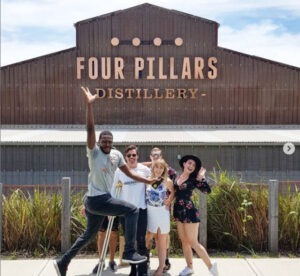 Furthermore a reason to book a private Yarra valley wine tour is, you don't have to do anything except sit back and drink wine and dine on delicious local produce. We love to show off venues if you don't know the area but also we consider and organise any venues/cellar doors you would like to visit also. Additionally we must point out that there are bus companies that will drive you from the city to the Yarra Valley with 20 people you don't know on board. Subsequently these are set tours customers don't get a say in any of the venues or pace of the days outlay. If you tour with us at Evergreen winery tours we allow you customisation and your own time management. All in your own space with no one but your own group onboard.
Overall our Yarra Valley wine tour experience is an exclusive and amazing way to spend a day off work. You get the chance to learn, relax and cruise through the beauty filled landscape.
In conclusion
Without a doubt we have a rich history in the Yarra Valley and Evergreen winery tours have 20 plus years of experience. We pride ourselves on providing top notch tour experiences that are setting a standard in customer service. In this day and age there is no hiding from bad service, as all tours are reviewed by our guests. Check out our reviews in the links below to show you the fun our clients have had. Feel free to get in touch with us today to arrange tour next wine tour adventure.
– Our reviews links
– Accommodation links
https://www.devillehealesville.com.au/
http://www.araluenlodge.com.au/
Blog article written by Beau Heme – owner at Evergreen winery tours
Published March 2021