Welcome to Yileena Park
The Yarra Valley offers up to 70 cellar door options. How do you find your way around 70 venues when you most likely can only find time for four venues in one day? It's overwhelming but let me guide you through an easy starting point for a wonderful boutique cellar door to visit. Welcome to Yileena Park. Opened in 2004 to the public, Yileena Park offers arguably the most premium tasting experience available in the Yarra Valley.
An overview of the cellar door
Tucked away up the northern end of the Yarra Valley just a short drive off the Melba highway this is a true wine tasting experience. A lot of feedback as a tour operator is that many people don't want to be in a large commercial winery with the crowds, they want to have a real boutique wine experience. Yileena Park offers this true, small, boutique, fine wine, family-owned wine journey. Sitting in the historic foothills the original settlers of the region the Ryrie brothers path into the valley in 1838. Yileena has a charming cellar door that pops out of the hillside into your vino arms. 
The Wines
On offer at cellar door is an amazing range of wine and smoked small goods. Starting with a delicious semi oak Chardonnay delicious started to the tasting. This brings us to the illusive Rose wine that does not last long before selling out. Their rose is merlot based which is unique around these parts and a truly pallet pleasing. Once you start light and bright we move onto the fantastic red range. Pinot Noir is not be missed and the current wine stands out for the Yarra Valley as a wine blend. The owners Bob & Diane Curtis have made it their commitment to plant merlot which does not have an easy time growing in the valley. The merlot is rare to find in the Valley and a misunderstood grape that often is forgotten. Try the Merlot and enlighten yourself on this velvet smooth red wine, maybe even ask them about there museum range that has merlot and other wines dating back to 2002.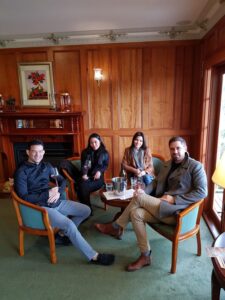 More wines
Many people may not know that the Yarra Valley produces some fantastic Cabernet Sauvion and Yileena Park offer a vintage that is the crème de la crème. Their Cabernet wine is a cool climate, infused style wine. This wine tastes light and elegant when compared with Coonwarra or the Barossa cabernet which are bigger in tannin. This wine is the aging king of the range with ideal drinking now or 15-20 years into the future! Good luck keeping it that long we say 10 minutes is long enough. Finally, let's finish this tasting off with a sweet note the NV aged topaque fortified (the real Christmas pudding in a bottle). Bob and Diane add an extra element to this tasting, the topaque is matched with a blue stilton cheese imported from the UK.. Furthermore a must-try along with the wine is the tasting plates with smoked goods (smoked from their old barrels!) such as cheese, olives, nuts, salts, oils and even kangaroo meats. 
In conclusion
Boasting top of the list Tripadvisor and Google reviews, do not waste any time in putting Yileena Park on your Yarra Valley to-do list of best wineries in the region. At Evergreen winery tours sit back relax and we will take you to your boutique wine experience.
Links
Visit their website at https://yileenapark.com.au/

Book with us at https://evergreenwinerytours.com.au/contact/