Welcome for Four Pillars
The Yarra valley is located just under one hour from Melbourne's second most populist city Melbourne. The many regions that surround Melbourne are diverse and unique.
The Yarra Valley is the most popular destination for people looking for day trips by far. For this reason the Yarra Valley has encapsulated the tourist dollar and needs. Not only does the Yarra Valley harness world class wines but also much more. Lets start with the latest hit of the last few years which is Four Pillars gin distillery.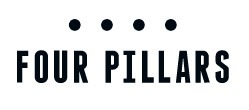 T
he gin story
Four Pillars is a true wonder of the region and has an amazing story to tell. In 2013 a local Healesvillian by the name of Cameron Mackenzie bought a miniature still and set up some gin experiments in the back of Rob Dolan wines. He started to play round with gin distilling and added many botanical's to find many unique blends. Within a year a gin creation was born and a dream started its journey to reality.
Apart from the fact Four Pillars was locally founded it was also locally funded. Cam and the small team he assembled started to crowd fund with locals and friends they knew. This created a buy in investment which would return 50 plus people a 1% share for their investment. The buy in helped launch the brand, marketing and eventually the purchase of the old timber yard where the distillery stands today. As a local myself I can tell you this distillery is much more welcome then the messy, run down timber yard it used to be which is located at 2A Lilydale Rd, Healesville. I remember buying wood from here in my former life as a carpenter and meeting the old owner at the timber yard. Its fair to say he was not friendly and was looking for a way out of his timber shed it seemed.
What a definitive moment when he left, this in turn made way for this new Yarra valley distillery to move in. Cam did also have founding partner who is Stuart Gregor. Were Cam is the on ground and the distilling expert Stuart is the back end marketing side of the business.
The growth and success of Four Pillars gin.
Since its inception Four Pillars gin has achieved local, national and international fame. Cementing them as an internationally known brand with their back to back international wine spirits IWSC awards in 2019 and in 2020.
Just a dream being distilled all those years ago in the back of a winery. Four Pillars gin distillery show cases a dream to reality moment. On top of all this they sold half the business to Lion/Kirin for 100 million in 2019. But the true local aspect to this was when it was sold, it was agreed that no gin be made outside of the distillery in Healesville. That right there I respect whole heartedly. Keeping the product and local jobs firm in the Yarra Valley was a nice move. All our tour clients agree that a stop at Four Pillars gin is never a let down and a nice surprise to many non gin drinkers. It seems that Four Pillars gin has found a place in a heart land of wine and doesn't appear to be going anywhere anytime soon.

The main gins
Lets dive into the main gins on offering at this excellent distillery, all of which are featured on their tasting paddles. First off we have the original that started it all, the Four Pillars rare dry gin. For $75 per bottle this black label gin combines mediterranean citrus with sensual Asian botanicals. Its is distilled with fresh oranges and native lemon myrtle. This gin is a great base for any gin cocktail you want to whip up at home.
In addition we also have the local legend that is the Four Pillars bloody shiraz gin. Yes I know its quite beautiful even unexpected and has some residual sugar in it. You would think that Yarra Valley's biggest buyer of shiraz must be a winery, this is not the case. Four Pillars is the valley's biggest buyer of shiraz grapes now thanks to this gin. This bottle is priced at $85, just $10 more then their rare dry gin. Some of our wine clients that are not ginnies start with the shiraz gin and enjoy it a lot. Its like the gateway gin for many people and has a reputation of turning people to the gin side.
More gin baby!
Last but no least the lord of the venue has arrived, its the Navy strength gin. Though an innocent white label with some blue touches this is a 58.8% alcoholic gin. As harsh as that sounds a lot of our guests we bring here actually rate this their favourite gin. If you want a base mixer for your drink and the rare dry gin hasn't got enough kick, then the navy will be your savour. Bottles of navy gin sell for $90 per bottle.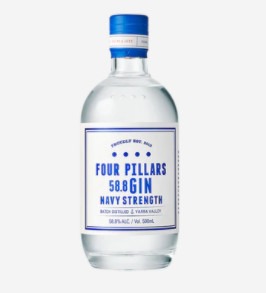 Without a doubt after reading this you must want to refresh yourself this summer of 2021 and try these for real. Gin tastings paddles cost $15 each for the public or we can package them into your tour, with this you also get a tonic mixer to match. Skip the lines and book a Yarra valley tour today with us at Evergreen to see what Four Pillars gin is all about.
In conclusion
Obviously we are a wine tour company as its in our name. But this does not mean we don't dabble with all produce of the Yarra valley. A private tour means we go anywhere and if Four Pillars sounds like some fun to you, then we can make it happen. In addition we see many guests enjoy the wineries but love to mix it up and see what all the fuss is about at FP gin. I cant say I've ever seen a guest on a private tour with us say they didn't enjoy the gin stop. This is a world class product an its not just about the gin, the service is excellent at the venue also. The staff make the experience and the gin makes fun times roll.
S

ome quick links
Visit their website at
https://www.fourpillarsgin.com/
Shop
https://www.fourpillarsgin.com/gin-shop/our-gins
Blog by Beau Heme (owner at Evergreen Winery Tours).