Main Info
Treat yourself to a relaxing day trip away from the busy Melbourne CBD, and sample some of the best locally produced food and wine. Our private tours will have you surrounded by Yarra Valley's stunning views whilst enjoying the unique range of wines that are on offer. You'll enjoy a fun and fabulous day enjoying wine tastings at an exceptional selection of wineries and cellar doors, so book a tour today.
Our Yarra Valley private tours can be organised by our team or we can customise the day to suit you, please email us. We have the flexibility to change the itinerary during the tour. Full day tours operate 7 days a week with pick up available anywhere anytime in Yarra Valley and Melbourne city area.
Here is what is included in you special wine buffs day out.
Departure
Flexible pick up and drop off locations. Melbourne & Yarra Valley areas.
Departure Time
Pick up – 10am (City) or 10.45am (Yarra Valley area).
Return Time
Approx – 5:30pm (City) or 4.45pm (Yarra Valley area).
Included

Pick up and return in the Yarra Valley area included.
Three course premium winery lunch with glass of estate wine
Debortoli exclusive/private trophy room premium wine and cheese matching (available for $40 per person extra)
Exclusive tastings plate at Yileena Park (includes smoked local cheddar cheese, Stilton blue cheese with topaque wine matching, smoked & chilli olives, merlot infused salt, barrel smoked nuts and selection of bread, biscuits and oils)
Premium wine tasting fees at up to three cellar doors or distillery
Expert & entertaining local guide/host
Luxury vehicle transport for 7 guests or less. Black 7 seater van features climate control, leather seats, fridge and tinted windows.

Itinerary

Please scroll down page to see the Wine Buffs tour itinerary.

Pricing

2 people – $319 per person
3 people – $279 per person
4 people – $249 per person
5+ people – Please enquire for a quote

Pick Up & Returns

– $0 – Yarra Valley area or Lilydale train station – complimentary pick up/return
– $70 – Within 30km of Healesville, pick up/return
– $140 – City or Melbourne metro, pick up/return
(all pick up/returns can be customized locations, please advise us of your preferred address).
Itinerary
10am Pick up City or 10.45am Pick up Yarra Valley (both flexible if needed)
11am – Our first stop is at the truly beautiful Yileena Park winery.
Yileena Park is ultra boutique venue that offers excellent wine tastings and unique smoke house infused goods.. Owners Bob & Diane showcase their wonderful wines such as Chardonnay, Pinot Blanc, Pinot Noir, Merlot, Cab Sauv and Topaque wine. This private tour package also features a Stilton blue cheese wine match with topaque wine on the day.
Exclusive to this tour your will have an assortment of local small goods and choice of meats to have alongside your personal wine tasting. The tasting platter includes Warrnambool smoked cheddar cheese, Imported Stilton Blue Cheese, Barrel smoked olives, chilli olives, Murray Merlot infused salt, chipotle smoked sauce, smoked oil with breads and nibbles.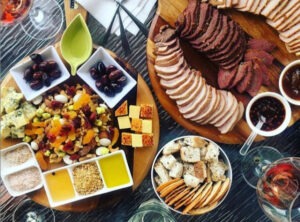 Also a meat of your choice on the day (Kangaroo, Duck or Lamb).
A great start to the day.
12.15pm – At this time will head to lunch at the outstanding Steeles Gate wines, Offering a delicious meal selection for our tour guests. Choose from a seasonal menu on the day to suit your desires. Our lunch venue can cater for any dietary please advise in advance.
This delicious top notch lunch includes is a three course style (entrée, main and dessert) with glass of estate wine of your choice.
Experience a sit down tasting with your lunch of the Steels Gate range.
We allow a 2 hour time slot for lunch, which is a comfortable time to spend with your group and not be rushed at all. Take your time and enjoy the views, wine, food and your day off.
2.30pm - We now head to the scenic boutique vineyard at Helen & Joeys Estate for a premium wine range tasting.
H&J's has arguably the most beautiful tasting view of any winery in the Yarra Valley. This is not to be missed.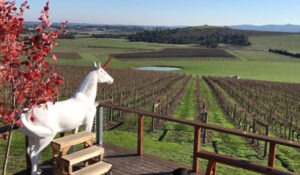 This tasting will included 7 premium range wines.
3.30pm - Being the final destination of the tour we like to include a premium wine tasting at Helens Hill Estate or we are open to letting you choice your own venue. For example we can visit the chocolatery or a distillery if you are daring.
Let us know what speciality stop you would like?
Some venues we can visit are.
Yarra Valley Chocolaterie & ice Creamery
Plus Much More – ask us if you have any venues in mind and we can arrange.
4.45pm - Unfortunately at this time its the end of your Yarra Valley private tour. We will start the journey back to your return address.
5pm Drop off Yarra Valley address or 5.45pm Drop of City/Metro area address (Can be earlier if needed, just let us know).
Maps