Introduction
There are a multitude of reasons why a Yarra Valley Private winery tour is perfect for you. Many of our guests are amazed by the scenic beauty of the Yarra Valley, the fantastic produce such as wines and food. The Yarra Valley area comprises of many aspects that surprise and please many of our guests at Evergreen Winery Tours. During this blog I will be discussing an overview of our private winery tour experiences, in this world class wine region. Many of our experiences are dynamic such as classic wine tours in our premium tour vehicles. Or for some high rollers you can experience the helicopter ride from Melbourne to the Yarra Valley. Mix in a few native animals a bit of gin or a bit of wine and a beer and cider. Let's get to it and have a look at what you can do with a private tour.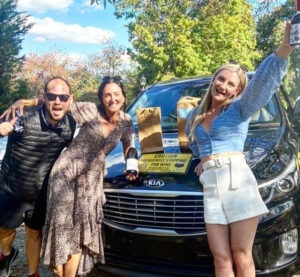 Continued
The Yarra Valley encapsulates approximately 70 cellar doors and approximately 150 Vineyards. This can be overwhelming when you look at a map and think are the venues I'm going to pick really what I want? With our team at Evergreen we have some amazing venues that we work alongside, but also give you the option to visit venues you would like.
Yarra valley small group private wine tours
Our classic and most popular tour package is our small group Yarra Valley Private wine tour. Small and intimate groups such as families or friends really enjoy the small group setup. Many intimate boutique wineries and cellar doors complement the small group setting very well. When you travel light you can visit small family owned cellar doors. When we visit wineries such as Yileena Park or Steels gate wines the owners personally greet, host and tell you their story. The petit group tour that is just your small group visits up to five venues on the day. For example we start at Greenstone Vineyard in the morning for a light Pinot Noir or Sangiovese.
Upon being at this venue for about an hour we had to Steels gate wines for a delicious main course lunch with a glass of wine and sit down tasting with the owners. Steels gate offers fantastic market fish/lamb/pork and also a great vegetarian sweet potato dish. Take the power into your own hands and choose your preferred wine once you've completed the tasting with Brad the owner.
Small group continued…
We allow just under 2 hours for lunch then we move on to Yileena Park for the aged red and smoke goods Wine Experience. I guests will enjoy a Stilton blue cheese match with Topaque wine plus delicious Cabernet Sauvignon and Merlot to name a few. By the afternoon we are flexible with our guests and ask our clients what they would like to do.
Often many people would like to visit the local dairy or chocolate factory. Some of our excitable guests want to dive into four pillars gin distillery and get in the spirit. Enjoy the perfect day out with Evergreen tours and get your wine tasting crew together for a memorable day.
Large group private wine tours
Not every group is a smaller style group that's why we have buses and larger vehicles for our large tours. In a similar vein to our small group tours, the large group tours we visit boutique venues with a little more space.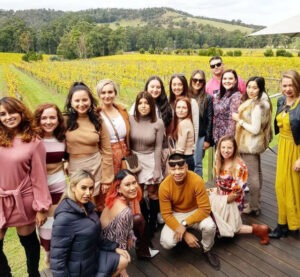 We love to take larger groups in our cosy and comfy air conditioned buses to venues that have a bit of a vibe but maintain a boutique atmosphere. Have the choice to visit Greenstone, Hanrahan's, Helen and Joey's, and also Helen's Hill. These wineries will tick everyone's box as they offer everything from sparkling wines to Chardonnay. Great red varieties such as Pinot, Shiraz and Merlot and a few sweet wines. Generally we arrange 3 to 4 venues on the day so the day is not too rushed.
A large group Yarra Valley private wine tour is a really good chance to celebrate a special occasion. Our wonderful wine tour customers enjoy celebrating a birthday, hens or general work day or social tour. We can handle any group size from 2 people up to even 100 people at Evergreen Winery Tours.
Yarra Valley helicopter tour experience.
We like to call it the rock star VIP package. The couples and mid-sized groups we offer the helicopter Yarra Valley experience. We have taken off locations from Moorabbin airport, Southbank helipad or Essendon Airport to suit your geographic location. Enjoy the marvellous scenic flight that takes 25 minutes each way. Flying over the city through East Melbourne and alongside the Dandenong Ranges. Your helicopter charter will land at your preferred lunch venue that you pick from our tour packages. Our lunch venues include Steels Gate Wines and also Levantine Hill estate for example. One of the truly amazing things is you could actually land at any winery in the valley if we get their permission, so get creative if you like.
The package includes 3 hours ground time to soak in all of the Yarra Valley. We also have options to extend ground time and tour to another venue to taste some fine wines. If the helicopter Yarra Valley wine tour experience sounds fitting for you and your special occasion please get in touch with us.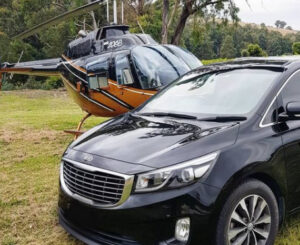 Gin in the Yarra Valley tour
An amazing thing that has only recently happened in the world is the resurgence of gin. We do offer two small groups and even larger groups the distillery visit but we also have a package just for ginnies. Our gin boutique tour is a great way to experience a tasting at the world famous Four Pillars gin distillery. Four pillars gin both an expansive gin range all available at the venue located at the start of Healesville township. Our guests go wild for the Navy strength which is 58.8% alcohol. More relaxed and chilled out clients tend to break into gin with the bloody Shiraz gin, it's a little sweeter.
This Yarra Valley distillery offers delicious tasting paddles with four gin samples and also a fever tree tonic or soda mixer. Or try the classic tasting of up to 6 of their gins with a staff member which is a great local experience.
Besides this fantastic Gin tasting venue we can also include some more boutique stops rather than just a full day of wine. Our Yarra Valley gin tour package can also include tastings at the local dairy or chocolate factory. Plus we can mix in a boutique winery with an extensive wine range that will suit anyone's pallet. Usually we would finish the afternoon with the Gin tasting and start earlier in the morning with wine and cheese. Currently alchemy distillery is not open and may not open again as we have been asked this recently. Come on out and if you're a season gin drinker won't even if you're not trying it and you won't look back.
Brewery and cider tour option
Lastly I want to mention our Yarra Valley brewery and cider tour. It's easy enough to mix in a brewery on a wine tour but if you want to target just beers this is it. Daniel Andrews made famous the saying, get on the beers. Let's think of those famous words and apply them to everyday life. When you're in the Yarra Valley let us guide you to our local venues for beer and cider. In no particular order we love to take our clients to Coldstream Brewery, Watts River Brewery and also Matilda Bay Brewery. Coldstream brewery do have a cider or two as does Napoleone cider. All these venues can be arranged for large or small groups paddle tastings.
Coldstream brewery and Matilda Bay can also double as a lunch stop for the day. For lunch you could expect a great chicken parmigiana or a delicious pizza for example. Maybe your event is a work day or a birthday or a bucks day, a brewery tour can work for you and the team. 
In conclusion
We understand there is a lot of information to process and tours to contemplate. Though if you remember the key words to base your decision off, this can be easy. Wine, beer, cider, gin, cheese or chocolate. Special extra keywords to remember are helicopter, I guess we'll leave it right there. That's a pretty cool way to tour if a car isn't your thing. Let this article guide you, but also remember to suggest any venues you would like to visit and we can make your dreams come true. And of course customise it or we can just book it for you and surprise you.
Blog by Beau Heme (director at Evergreen Winery Tours)
May 2021