We check out the beautiful Helen and Joey's estate.
Some say it's the land of unicorns, some say it's the land of beauty, we say it's all the above. Welcome to Helen and Joey's estate of the Yarra Valley. Located at 12-14 Spring Lane in Gruyere, Victoria. This winery estate boasts a broad and expressive wine range, with a detail for taste and lets say fun? Named after its owners Helen and Joey, this wine estate has developed from a small family owned winery into a fantastic mid size semi commercial growth venture for the couple. Helen and Joeys is a wonderful boutique venue and doesn't feel commercial like its neighbour's Domaine Chandon or Yeringberg. A graceful scenic venue its a very bespoke in every sense of the word and is often regarded by many of our guests as being the best wine tour tasting experience of the day. Let's dive into what Helen and Joeys has on offer.
Introduction to Helen and Joey's estate.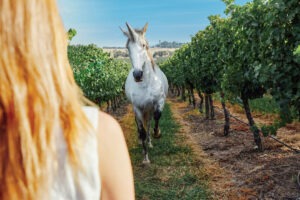 Helen and Joey purchased the Gruyere property in late 2010 as a new adventure to dabble in. This property was originally founded in the early 1990's by previous owners. The vines were planted in 1995 to produce commercial wine for sale by the tonnage. The original owners never intended for the property to be its own winery, just sell the grapes to bigger wineries, such as Debortoli wines for example. It's hard to believe the previous owners sat on this scenic property in the Yarra Valley and were not inspired to open their own venue.
The whole property is 150 acres and the vineyard is approximately 87 acres of this. The original 1990's vineyard plantings at 12 – 14 Spring Lane include Pinot Noir, Merlot, Chardonnay and Shiraz. These vines are still in today and produce all of the estate wine Helen and Joeys make. Business wise Helen and Joeys have no need to purchase grapes from external wineries, all the grapes are harvested from their own vineyard.
The wines on offering at H&J estate.
At Evergreen winery tours we love to visit this winery for many reasons, but a main drawcard is the diverse wine range. Helen and Joey's offer four different tiers of wine and also perhaps a fifth in canned wine! Our starting point wine range is the easy drinking Inara branded wines, these great value bottles start at approx $25 per bottle. The following wine range is labelled Layla wine, starting at $35 per bottle. The third level which is the European style reds is Anara wine range which starts off at $50 per bottle. Our favourite range is the Wayward child range which start off at $55 per bottle. The wayward wines represent the wine makers take on the vineyard, its delicious. The wine style of our choice is the Serendip Wayward child, its a yummy Pinot Shiraz blend.
A surprise range which is fresh of the press and taking the customers by storm is the canned wine range. Personally when I first saw this I wasn't sure how to take it, let's say it's edgy, unconventional and new. Though my own doubt of canned wine was active, our guests loved it. If you're looking for alcohol content you have found it with these wines in a can. The rose canned wine has 2.7 standard drinks in one 375ml can. That's a lot to drink for a purchase of a 4 pack, this means four cans equal half a bottle of vodka in alcohol!
Highly photographed views from cellar door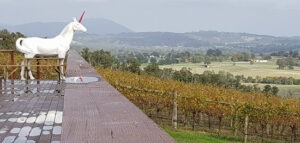 Wine is one thing and it's a fairly big factor on our private winery tours of the Yarra Valley. Another factor and it could even be more important than the wines sometimes, is the amazing views from the wine deck. The first reaction of a lot of guests when they hop out of our tour vehicles is "wow, look at that view". No matter how many times our team takes guests here, we also have to take a second to take in the beautiful Yarra Valley views.
When you sit back to relax during your wine tasting on the wine deck you will see views from the Dandenong ranges, to the centre of the lower Yarra Valley basin and beyond. The young groups love the Instagram worthy spots and the mature groups love the view and relaxing subtle wind breeze. Come check it out in person, you have to see it to believe it.
Unicorns roam the vineyard
Majestic animals exist on this property, you may spot a few at cellar door as you drive into the property. Unicorns are the animal of choice for the Helen and Joeys branding. There are actual unicorns on the property, it sounds crazy right? The reason for the unicorn is that Helen was born in the year of the horse. Adding to the horse reference she said the property seemed very enchanted when she first viewed it under a layer of thick fog, thus the wine unicorn was born.
The property features five unicorns placed all around the property for many years. At the main entrance was a smaller miniature unicorn for years, but sadly it went missing (or came alive and flew off). A unicorn located on the drive into the cellar door but someone poached its horn, so we assume it's a horse now. The property hosts another three unicorns that have had a happy life guarding the vines for 10 plus years now. Keep an eye out for Septicorn! he guards the septic tank.
Helen and Joeys a must visit!
In conclusion you cannot go wrong with a Helen and Joey's visit when you're in the Yarra Valley. The wine is divine, the views are impeccable not to mention the great customer service to match. They claim highly rated reviews online whether it be on google reviews for the cellar doors or in wine writings from wine experts. Helen and Joeys estate is a 10 out of 10 venue on our Yarra Valley wine tour itinerary. On your next Evergreen winery tour of the Yarra Valley we recommend you visit this wonderful venue for a tasting experience and take some sweet photos to show you family and friends.
Visit the Helen and Joeys estate website here
https://helenandjoeyestate.com.au/
Visit our website here for your next Yarra Valley wine tour.
https://evergreenwinerytours.com.au/
Blog article for Evergreen Winery Tours by Beau Heme owner.