Introduction to our beautiful Yarra Valley region
It's beautiful and it's scenic, it's the Yarra Valley. Beyond this beauty is a wine region that has an abundance of beautiful wines and produce. Many folks from around the world and locals will come to see and taste. In this blog article we're going to discover what makes the individual pockets of the Yarra Valley unique. We will venture through the local townships such as Healesville and Yarra Glen. We will also touch on a few key aspects to the wine growing region, plus some other exciting activities that are on offer here. Whether it's the beautiful Majestic Maroondah Dam or the Iconic Black Spur Drive we have it covered in this write up.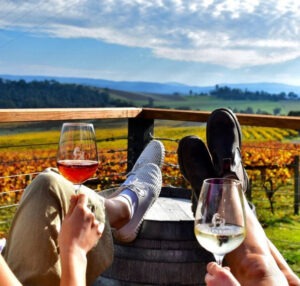 The township of Healesville, Victoria
With a population of approximately 7500 thousand people Healesville is a teeny tiny town that packs a loaded punch. The township of Healesville has historically been known as a resort town as far back as the 1840s. There are historic posters which show and advertise experiences such as, the majestic Black Spur drive. Along with mentions of the beautiful look out from Mount Donna Buang. The only way people in the 18th century would be able to get to the Yarra Valley would be Melbourne to Healesville by train. Then they would complete the remaining trip by horse and cart.
Locals would then take the horse and cart and journey to stay at the beautiful scenic cottages tucked away in the ferns in the mountainsides. Not much has changed in nearly 200 years here, Healesville still serves as a resort town destination for Melburnians and the people from all over the world. Sadly the railway stopped operation in 1981 due to no real practical use for it. People now take the one hour drive by car from Melbourne to experience all the Yarra Valley's experiences. It should also be noted the Yarra Valley railway will open again as a tourist line, from Yarra Glen to Healesville.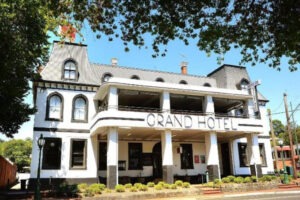 There is more and more to offer in Healesville
Popular activities in Healesville are in abundance such as booking a local accommodation to stay, strolling the main street, sampling some gin at Four Pillars gin distillery. Of course booking a wine tour is also a popular experience to take you on a magical, drinking adventure of this world famous wine region. The premier wine venues in the valley are just a maximum 10-minute drive from the township of Healesville. This makes this a great place to stay to centralise your itineraries and activities during your stay.
Some local attractions in the Healesville area include the world renowned Four Pillars gin distillery. Also the iconic nearly 100 year old Healesville Sanctuary for native Australian wildlife zoo. Sample some sparkling wine at Domaine Chandon which is only a few minutes drive from Healesville. Visit the premium boutique wineries Pimpernel Wines and Helen and Joeys estate vineyards. Healesville has some great dinner options and we recommend that our guests try places such as Innocent bystander. Innocent bystander showcases a solid wine range plus pizza and paella dishes, they are open 7 days a week for lunch and dinner. If you would like to try a more traditional local feed book dinner at the Healesville Grand Hotel. If you would like something up market why not try the swanky Herd Bar and Grill.
You could also just explore the main street and see what you come across, there are approximately thirty eateries on the main street of Healesville. In conclusion this town is the spiritual and main hub of the valley with the most on offer. Look no further as Healesville has got your back. 
The country town vibes of Yarra Glen, Victoria
The relaxed classic country town of Yarra Glen is located on the west side of the Yarra Valley wine region. The population of Yarra Glen sits around 4000 people. The most historic building in Yarra Glen is the Yarra Valley Grand Hotel which was built in 1880. The remainder of the street is a few novelty shops and essential local shops. Yarra Glen has a very different feel than that of its eastside brother of Healesville. Yarra Glen is located on the main arterial Road called Melba Highway, which means it gets a lot of flow through traffic to the northern parts of the state.
The township is located on the Yarra River even though there's not many Yarra river vantage points to look at the river. Some local attractions that are close to Yarra Glen, the Yarra Valley Chocolaterie Factory and also the Yarra Valley dairy. Amongst other local big wineries such as De Bortoli Wines and Yileena Park Wines.
Yarra Glen compared to Healesville there are some slight differences. Yarra Glen has a little bit less infrastructure and boutique shops available. Healesville is an abundance I've boutique shops and many dining options. We suggest to many clients to book an accommodation in the Healesville area for their stays in the Yarra Valley. We recommend Healesville so gas can have somewhere to have dinner without driving or walking too far on their nights in.
The Historic Maroondah Dam Reservoir
The Maroondah Dam Reservoir was built in 1926 by a large team of gentlemen. Serving as one of Melbourne's major water reservoirs to supply Melbourne's drinking water. Intern it became a popular tourist attraction to the valley at the gateway of the Black Spur Drive. Although back in the day during the 1920's and 30s it was a slow drive via horse and cart, after you've got off the train from Melbourne in Healesville. Maroondah Dam is a much smaller reservoir compared to the larger Thomson Dam these days which is the main water reservoir of Melbourne now.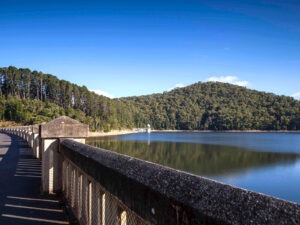 The Maroondah Dam complex offers some very nice scenic walks across the dam wall and surrounding parkland. An amazing site to see is the overflow spillway when there has been heavy rain, which creates one of the biggest waterfalls available close to Melbourne. Before you make your Majestic scenic drive up the black spur we recommend that you stop by Maroondah Dam, for a quick walk and quick bite to eat from your own picnic. There are no shops here or places to buy beverages so definitely pack your own for the journey.
The black spur scenic drive
The Black Spur was originally created as a pathway road to the goldfields located 2 hours east of Healesville amongst the Yarra Ranges mountains. This track fell under the name of the Yarra track, which was 190 km windy dirt road for horse and cart travel way back in the 1860s. This now curvy and slick road takes people on a solid 30 minute journey through the Yarra Ranges National Park. Along the way you cross Watts River and also Dom Dom saddle picnic area. The road is a bit notorious for accidents and tree falls so please be careful and drive to the correct conditions. Witness the majestic and world's second largest tree species which is called the mountain ash, only second in height compared to redwood trees.
They are scattered all along the hillsides during the 30 minute journey and really create the ambiance. This road is something special to see. Beyond the Black Spur drive Dom the Maroondah Highway from Healesville you will eventually arrive at the super beautiful hillside town of Marysville. Marysville has a population of around 400 people and Stevensons Falls which is a major attraction here. The town has a small main street but it's boutique shops. Stevensons Falls is the tallest ever flowing waterfall closest to Melbourne. We often have guests stay in Marysville and take them for tours in the Yarra Valley which is about a 40 minute drive away. We recommend staying at Marysville cottages or peppers hotel in the center of town.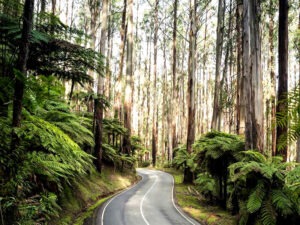 Warburton Highway and beyond
There are three directions you can go when you explore the Yarra Valley. First one and our highly recommended one is the Healesville direction up Maroondah Highway. Then if you're transiting to central Victoria area you head up the Melba Highway through Yarra Glen. A super lush and naturally wooded area is the third option which ends up in the quaint town of Warburton. Warburton is a journey approx extra 30 minute up the Warburton Highway. Warburton boasts a population of around 2000 people and has the lovely Yarra river running through the town. Historically the surrounding areas of Warburton, Millgrove and Yarra Junction and beyond were and still are logging areas.
The charming town of Warburton has made itself stand out as a boutique accommodation destination. As well as a super popular area for cycling enthusiasts. Whether it's mountain biking down the hill from Mt Donna Buang or the ride along the Warburton trail along the Warburton Highway.
Last but not least Warburton East, a super popular tourist attraction, is the Redwood Forest. Though this destination lacks any formal infrastructure such as toilets, it's a mystical and enchanting forest of hundred year old massive redwoods. I guess you could say it's like a fairy tail or mysterious power these redwoods hold. On long weekends this place is bustling with many families on road trips from Melbourne looking for a different kind of forest experience. A really cool fact is that the redwoods don't have an entry fee making it a great free day out. 
New developments coming to the Yarra Valley
The exciting thing about being in a region that is still growing by the day.  Many new businesses and current one's are developing new experiences.
For many years now Australia's biggest volunteer project has been the Yarra Valley Railway. A team of good samaritans and government funding are restoring the Yarra Glen to Healesville rail line. It will be open again soon with an historic resorted steam tourist train. Similar to the Puffing Billy railway line but with just way more vineyards and scenic vista views. The train line will have one stop between Tarrawarra estate and hopefully have a wine tasting carriage we hope.
Also the team at Helens and Joeys are currently building a brand new winery, restaurant and accommodation.. The venue will host functions and weddings as well as cellar door and restaurant. What really looks exciting also is their 16 room boutique hotel which will look over the 88 acre vineyard. The accommodation rooms and suites will be modern contemporary and the whole bottom floor will have spa amenities in the front windows, looking over the vinaeyard.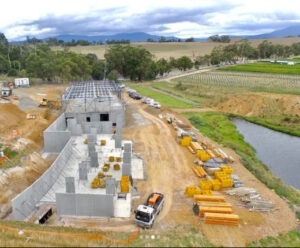 Even more coming
A nice new players in the wines game has emerged and bought St Huberts wine. Gerry Ryan and his son are responsible for setting up Mitchelton Wines in Nagambie and look to do something similar here in the Yarra Valley with St Huberts wines. The new cellar door will feature an underground design with a restaurant and function space to the rear. It looks pretty architectural and amazing to see from Maroondah Highway when you drive past.
Four pillars gin distillery are currently extending and developing their site in Healesville. The current distillery houses manufacturing of the gin as well as seating for gin tastings of up to 50 patrons. Four Pillars bought the property next door 18 months ago and currently has a 250 seat capacity venue being built, which will connect to the current building. Making the overall size of the distillery a whopping 300 seat bar and gin making facility. We are really looking forward to heading down to Four pillars and having a lot of space to kick our feet up and have a bloody shiraz gin and fever tree tonic.
Just a few developments I thought I'd mention to you, we are very excited and thrilled to have these new places to visit. More places means better options which means more fun.
In conclusion
The Yarra Valley region is a very expansive and broad region with over 100 cellar doors and 170 Vineyards with the area still growing. Historically the Yarra Valley has always been known as a great area to quality grow produce. The region's popularity continues to grow and many developments are still taking place. We are looking forward to seeing the St Huberts winery open here soon. As well as Helen and Joey's estate's new winery and boutique accommodations brand new boutique hotel.
Here at Evergreen Winery Tours we'd love to host you in the valley so you can have a few drinks and a day off. Let us take you to some spots you might not find by yourself. Contact us today about booking charter transport or fully inclusive tour packages. We offer service with pickups from any address in the Yarra Valley or Melbourne metro.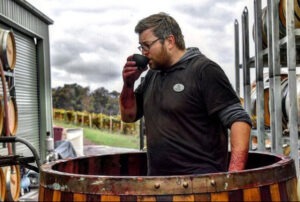 Thanks so much for your time to read this blog we appreciate it.  We look forward to hearing from you if you would like a private winery tour in the Yarra Valley. We are the Yarra Valley private tour specialist and have over 20 years experience in the Yarra Valley.
Blog by Beau Heme
Director at Evergreen Winery Tours
June 2021