Welcome to Steels Gate Wines
Often in the Yarra Valley its easy to get lost for what winery to visit. Many times our guests mention that they have seen Chandon and other big name brands but totally unaware of the fantastic boutique wineries hidden in the back roads. Let me introduce you to one of these gems off the main drag. Located up the tip top northern area of the Yarra Valley is the wonderful Steels Gate wines (1974 Melba Hwy, Dixons Creek VIC 3775). Lets get into what this establishment offers with an overview of the cellar door, wines, lunch and backstory.
S

ome

B

ackground

& Origins
At Evergreen winery tours we consistently get feedback that boutique is best, Steels Gate wines falls in this category and we don't want you to miss it. Steels Gate was created in 2009 by Matthew and Brad when they purchased this property. The vineyard was established 30 years prior and run down. The vines had been dry grown and were completely surrounded by National Park. The property had plantings of Pinot Noir and Chardonnay which gave Brad and Matthew a great starting point. Both the guys set up shop and started to nurture the site back to health and also call the property home. In 2014 they added an additional 2 acres of Pinot Noir. They jointly purchased a Dixons Creek property in 2018, tripling the vineyard size and added a cellar door and restaurant.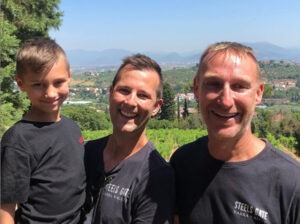 The Wines at Steels Gate
A unique approach the guys have been implementing is a organic viticulture practices (as much as possible in the Yarra Valley), which has been across both vineyards and they have eliminated the use of herbicides and insecticides. So we can 99% say these wines are leaning towards some of the best near vegan wine options in the Yarra Valley. They established a partnership with the Shelmerdine family in Nagambie in 2018, which gave them another chance to branch out their wine range. Steels Gate wines has been producing Cabernet, Bastardo, Riesling and Graciano style wines. In 2020 they will see the removal of the Bastardo and the addition of a Saozao in its place! (exciting new varieties which are very rare in the Yarra Valley). In their opinion the Saozao is the stand out Iberian to date!
Steels Gate wines also offer an estate range which includes Chardonnay, Blanc de Blancs, Blanc de Noir (not released yet), Pinot Noir, Pinot Noir Rose, Shiraz, Cabernet Sauvignon, Merlot (not released yet), Cabernet Franc (not released yet). Fair to say they have some wines in the pipe line we cannot wait to try. The investment of time and love these guys are putting in to their vineyard is very impressive and its shows in their wines.
Lunchtime
We have talked history, wine and now lets devour the food talk. Steels Gate has become a popular stop for us for lunch also. Rumour has it the chef takes 3 days to make the ragu pasta (that's gotta be a record) its delicious! Packages we offer at Evergreen winery tours include one, two or three course options with glass of estate wine. Plus during your seating you will have a wine tasting to kick off the mid day stop over. Menus are seasonal so please contact us for the latest food options or wait and be surprised on the day. The team of staff at cellar door offer one of the best services in the Yarra Valley for lunch in our opinion. We also always get to meet one of the owners at the venue every time we visit.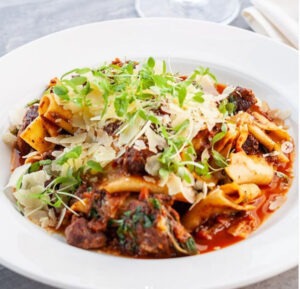 In Conclusion
Steels Gates wines is a top Yarra Valley winery experience that we highly recommend to our clients 20/20.
Links 
https://steelsgate.com.au/restaurant/